Can you talk about your connections to ANAT?
In 2018, I was working as a project officer with senior lecturer in the School of Biotechnology and Biomolecular Sciences and Associate Dean Education, innovation and student experience for the Faculty of Science at UNSW, Rebecca LeBard. Keen to support my creative trajectory as an artist, Rebecca introduced me to the innovative research being conducted by oyster expert Dr Laura Parker, the Indigenous scientist whose research focuses on the impacts of climate change on molluscs. I was hooked! Inspired and excited by the notion that artists and scientists could work together as research partners in laboratories, research facilities and beyond, I successfully applied for a Synapse Residency to work with Laura. Hosted by the school of Biological, Earth and Environmental Sciences (BEES) at UNSW, I set up an artist's studio in a laboratory and began reading and learning about ocean acidification, climate change adaptation, reef rehabilitation and marine organisms. My friendship with Laura and my This residency has led to compositions, recording opportunities, publications, performances, exhibitions, participatory reef building projects, and a passion/obsession with oystery worlds!
The oysters lie in my studio, waiting for stories.
I fill them up; fill them to brimming with questions; with searching, with encounter.
I talk to them.
In whispers.
I talk them.
About them.
Through them.
With them.
I dream them.
Piled in front of me like glistening Sea Country at times they overwhelm.
Overwhelm me with their volume, their abundance, their noise,
Their need.
I think through them.
With them.
They form in piles on blankets.
I contemplate the inside for I am pearl, I am smooth, I am skin.
Flesh.
I trace the outside with my fingers, my thumbs.
I line them up.
Stack them.
I count them and find ways to connect them, to reconnect them to each other, to themselves and to me.
I try to make them whole.
I wash them; over and over. I turn them.
I turn.
I wash.
I am oyster, I am skin. I am shell; torn and wet.
My hands rub barnacles. I am clinging. Clinging on.
I know where oysters lie.
They lie inside and nourish me, and I filter them.
They fill me with song.
Miss-heard.
Misunderstood.
Missed.
Oysters.
Oyster girl.
Oyster song.
Oyster skin.
I know where oysters lie.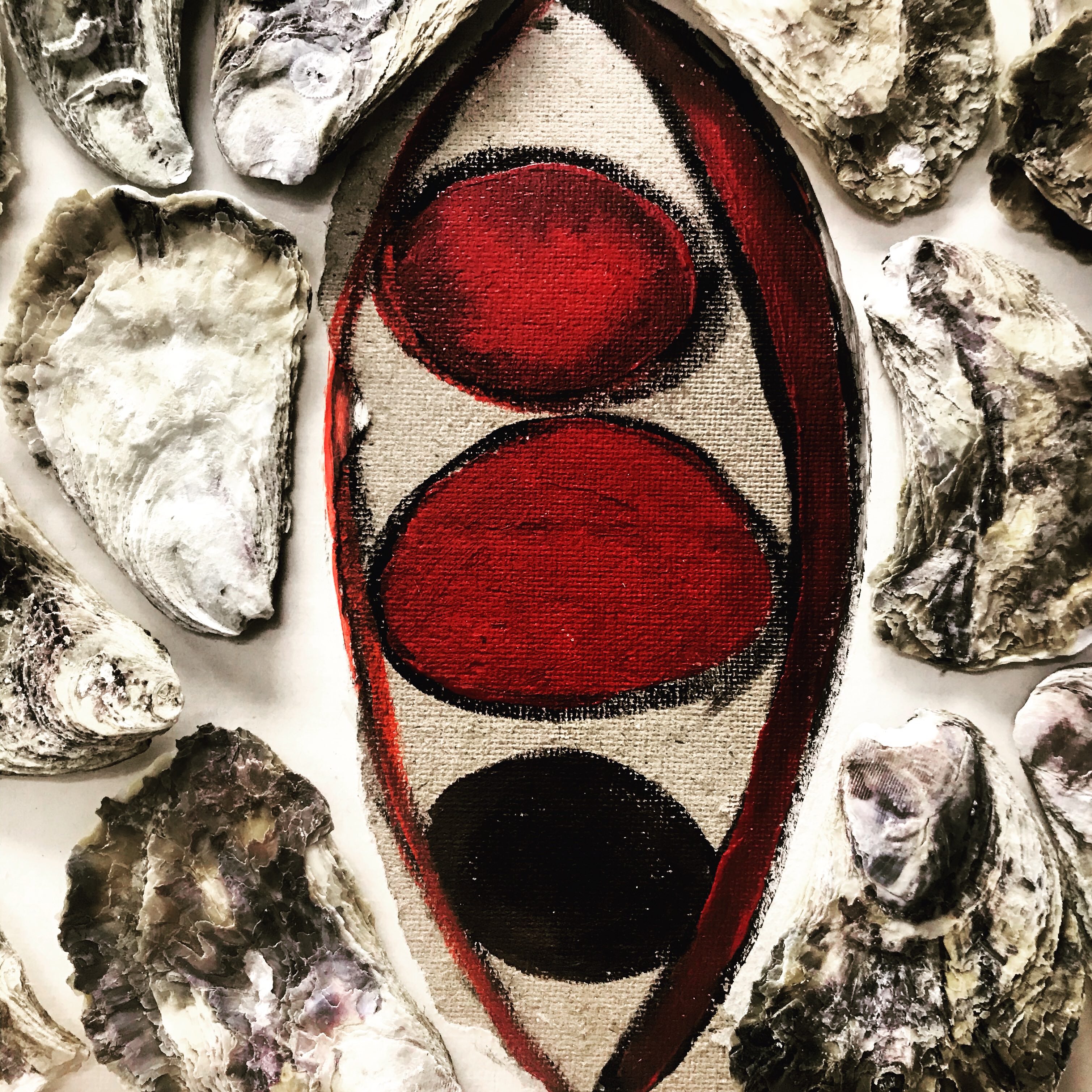 Everybody's a storyteller. What stories are you telling through your work?
I am currently telling the story of Worewoterpeender through my Precious River song. https://soundcloud.com/user-278409759 The song evokes a northern river recently named in my home place lutruwita Trowunna Tasmania. The Aboriginal and Dual Naming Policy and process provides for the naming of areas that have significance to Tasmania's Aboriginal histories and provides for the preferential assignment of Aboriginal names for previously unnamed natural features or places – such as rivers and mountains – as well as allowing for the addition of Aboriginal names to existing official names of natural features or places. Unlike most other place names recorded through dual naming, this precious water way was, until recently not mapped, nor named and so sits outside dual naming/faming. My precious river song emerges from my memories of visiting the little river and listening to its sounds. It remembers and maps the river's journey through time, space and place. I recorded the track with Paul Davison on guitar and Michael Galeazzi on double bass. The track was mixed by sound engineer Michael Barry and the song was developed through generous support from the Waverley Artist in Residency program at the Bondi Pavilion Music Studios. Michael Galeazzi and I performed my Precious River song live recently at the Powerhouse Museum as part of Elemental Landscapes event where audience members listened to us perform and responded with live chalked drawings that were erased at the end of the Powerhouse Late event. We performed the song and story most recently at the Australian National Maritime Museum in Sydney as part of Blue World's Valerie Taylor Ocean Prize – Life Beneath the Waves which was a wonderful opportunity to connect, perform and bring the song and its presence to life.
How has your practice changed over time?
At 17, I left Tasmania to study at the University of Wollongong within the School of Creative Arts. This training developed my skillset as an artist and established my confidence and competence as a creative practitioner. I studied painting, drawing, creative writing, singing, acting, musical theatre, performance skills, printmaking and sculpture. I still draw on the skills that I developed during these formative years and maintain a drawing, painting, writing and journaling. These creative modalities assist me to map my ideas, track my thinking, conceptualise projects and practise self-care. Whilst my creative arts training in Wollongong equipped me with creative skill sets in visual arts, performance and music, motherhood has been the single most impactful experience that has shaped my practise. Indeed, pregnancy, birth, breastfeeding and caring for my children has nourished my inner life and defined my identity and concept/power as creator/creative. My work life has been a mosaic of consultancies, contracts and creative projects. At 27, I was raising my first child and performing, singing and developing community cultural development and youth arts projects. At 37, I was living in a caravan with my two children on Jawoyn Country near the Katherine River, developing my writing and research skills. At 47, I graduated with my PhD, welcomed my third child and began developing mixed media, collage works and small sculptures. In my 50's I have returned to writing music and developing my singing, poetry and performance skills. Access to a long-term studio/lab at UNSW over the past five years has offered me space to create social practise, initiate workshops, develop presentations, enact performances and create exhibitions. The laboratory space has also placed me into contact with climate change experts, ecologists and researchers and has inspired me to delve deeper into my dialogues with land, place, unity and connectedness.
What are you working on at the moment?
Performing my songs to climate change scientists and researchers in the Royal National Park last year was inspiring and has motivated me to write more songs and stories. I am currently developing mountain, river and ocean songs and stories and have been rehearsing & recording with Paul Davison (guitar) Michael Galeazzi (double bass) Oliver Gathercole (piano/keyboard) and Richard Starr (musical director). I am developing a children's book with Tasmanian small mammal expert and ecologist Billie Lazenby and Victorian artist, animator and designer Sarah Fennelly. The book is set on Flinders Island and shines a light on the pookila, or New Holland Mouse. The book explores the importance of celebrating the plants, animals, and life that walks and dwells in the wildest of places. I am enjoying the small-scale self-publication journey and really value the opportunity to create a children's book that is science informed, climate friendly and demonstrates the importance of telling local, place-based stories. The book emerged from a story sharing visit to the Flinders Island District School where I had the opportunity to meet and mentor young writers. I am also working on a commissioned book chapter for Professor Jayne Osgood, (Middlesex University London) for her upcoming book Post development Approaches to Childhood Play (Bloomsbury) and thinking about the ways in which star stories shape our thinking. The chapter tells of the importance of looking to the stars for solutions and offers them up as teaching and thinking tools for deep learning, play and encounter.
working
worlding
wondering
I lie down; look up in, on and through
With pasts
Presents
I walk
I play.
Birth.
River.
For I am future and sing stars.
What advice would you give to your younger self?
You are enough.
Sarah Jane Moore is a Tasmanian born multi-disciplinary artist whose practise includes painting, collage, poetry, music performance, composition and creative writing. She is an Adjunct Associate at UNSW in Biological, Earth and Environment Science at UNSW and her research outputs are supported by strong relationships with scientists, conservation biologists and biodiversity experts. With a PhD in Reconciliation through Music and Art from the University of Sydney and a Master of Creative Arts in installation and performance from the University of Wollongong, she currently lives and works in Sydney. Her music, performance, writing, visual art and social practise is nature based, maps lost ecologies and shine a light on the connections between art and science through conjure place as a moment to remember, an opportunity to hope and a space to imagine.